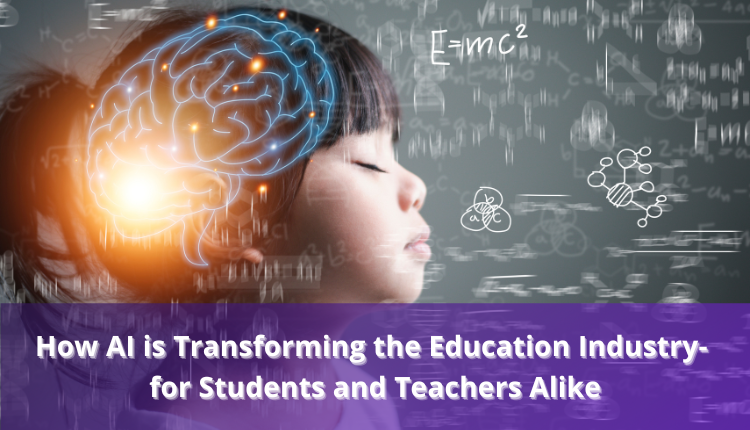 How AI is Transforming the Education Industry- for Students and Teachers Alike
While artificial intelligence (AI) can bring to mind images of human-like robots and a far-off future, in fact AI is already becoming an integral part of our everyday lives. The incorporation of AI into different industries including manufacturing, data analysis, sales, and science is transforming all of these industries rapidly. The education sector is no different. Recent innovations in AI, accelerated by the pandemic and widespread shift to online and distance learning, are transforming the education industry for students and teachers alike. What changes are happening, and what do they mean for the future of education going forward? Let's take a look.
 What AI is Offering for Teachers
One of the main benefits of AI in education for teachers is the automation of routine tasks, like grading. While current AI is generally limited to performing grading on tests or quizzes that are multiple choice, there are programs that are aiming to expand this to short answer and essay questions. Programs like Gradescope are used by instructors in university classrooms to grade and evaluate student performance on assignments that have clear grading templates. While there are some complaints about the rigidity of AI systems like this, they are improving constantly.
The benefits of AI to educators isn't limited to grading help. Some AI programs like chatbots offer students the ability to find answers to simple questions. By providing assistance to students directly, these AI programs can give teachers additional time to work on other priorities such as lesson planning.
Finally, AI technology can help teachers identify gaps in the knowledge of their students or even in their own curriculum. For example, when AI is used to administer tests and grades, it can identify areas where many students choose the wrong answer, alerting the teacher to the problem. Teachers can then examine the issue and figure out whether students aren't understanding a concept or whether the lesson itself needs to be adjusted. Online learning platforms like Coursera are already implementing this type of technology with great results.
What AI is Offering for Students
As mentioned above, students can enjoy the benefit of AI chatbots providing instant answers to simple questions. Unlike teachers, AI programs are available 24/7, which allows students to study at their leisure without worrying about whether teachers will be available. AI technology is helping students in other ways too. AI programs can help students figure out what they already know and what they still need to study by providing personalized learning assessments. This way, students can focus their time on studying what they need to improve and increase their efficiency.
Along the same lines, AI tutors are also being developed and increasingly used to help students succeed in the classroom. Companies like the Korean Kyowon Group are developing tutors that resemble real teachers for the classroom to help students. Similarly, AI tools that offer customized lessons for students are gaining popularity. AI can be used to create interactive  modules that use different types of approaches to appeal to different learning styles. This makes it easier for students to interact with and understand new material on their own.
Perhaps one of the greatest advantages of the integration of AI in the classroom is the increase in access for students to educational opportunities. Students are no longer limited to in-person courses taught near them at a specific time and place. Thanks to online learning, students can access a huge variety of courses at any institution that offers online courses or information. AI helps bridge these gaps by offering instant grading and assessment as well as automated translation, accessibility services, and other such features.
AI Programs to Upgrade your Classroom (or Learning) Experience
One downside of the explosion of AI technology in education is that it can be difficult to find tools that work well for your classroom or specific needs. No matter whether you need help making your presentation or text accessible for those with disabilities or who speak foreign languages, or help editing your academic paper, there is an AI tool that is available to help you. We've made a short list of some new and innovative tools that are popular with students and teachers alike below.
Presentation Translator can translate presentations in real-time by adding subtitles to PowerPoint slides. Offered by Microsoft, this innovative tool hears what you say and performs instant language conversion in more than 60 languages. In addition to multilingual audiences, this tool can support accessibility for those who are hard of hearing or deaf.
Cram101 uses AI to read textbooks and turn them into smart study guides, pulling out the relevant information and creating summaries and quizzes for students. In fact, a simple online search reveals many popular textbooks have already been put through this tool and study guides are available for download.
Trinka is an AI writing tool specifically designed for academic writing. In addition to grammar and spelling, Trinka can check to make sure that technical words are used correctly, formatting and citations are accurate, and even offer tone and style suggestions. While most of us are familiar with basic spelling and grammar checkers, tools like Trinka go beyond the basics to offer services mimicking those of a professional editor or proofreader.
Duolingo is known for its innovative language learning program. An app that can easily be downloaded by anyone on their phone, Duolingo offers creative lessons to help language learners of any level expand their vocabulary. By using AI to figure out what students do and don't know, Duolingo makes it easy to brush up on foreign languages no matter where you are.
With global organizations like UNESCO supporting the adoption of AI tools in the classroom, the way we teach and learn continues to grow and evolve every day. Don't fall behind- try incorporating AI into your own teaching or learning experience today.