How to Write an Effective Chemistry Research Paper (Part 1)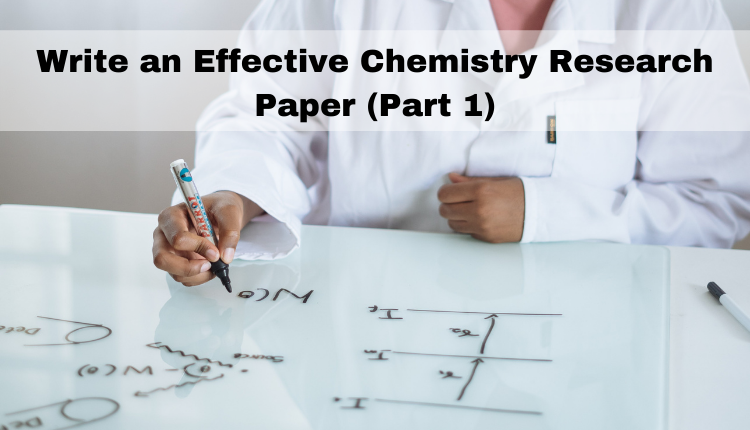 Here, we will state the rules about the format and content of a research paper in chemistry and explain the scientific conventions used in chemistry papers. These rules and conventions will help you write research papers in chemistry effectively and confidently. Alternatively, there is an AI-driven language enhancement tool, Trinka, which could be used. Trinka is world's first online grammar checker and language correction tool that is custom-built for academic writing and caters to subject-specific requirements.
Let us explore the rules about writing an effective Chemistry research paper.
Format and Content of Chemistry Articles
Readers expect two things while reading your paper:
Understand the information presented
Know that the findings are legitimate
How to Fulfill these Objectives?
Introduction
Methods and Materials
Results
Discussion
This format may slightly differ depending on the journal; for instance, some journals ask you to include an abstract or separate section for the hypothesis. Overall, however, this represents a textual version of the scientific method.
Title
Select terms that are as precise as the text permits.
Examples
Avoid: A magnetic alloy
Use: A vanadium-iron alloy
Things to Avoid
Phrases such as "on the," "a study of," "research on," and "regarding."
Non-quantitative, meaningless words such as "rapid" and "new."
Abstract
A quality abstract distinctly identifies the objective of the experiment and the key outcomes.
Things to Avoid
Beginning with "The purpose of this experiment was…" Such background information belongs in the Introduction section.
RBe specific about what was done.
Vague statements such as "…a metal complex was prepared, and the percent yield was calculated."

Instead use, "…hexaammine cobalt (III) chloride was prepared from cobalt (II), chloride, and hydrogen peroxide. The yield was 8.45 g."
Tip 1

When writing a full report, write the Abstract last.
Introduction
Go step-wise!
Begin by describing the larger area of the research
Give examples of advancement in the field
A distinct statement of the research problem
Approach being addressed in the current report
Examples
Avoid: This experiment intends to investigate upon any measurable amounts of Nickel in the surrounding mud area and within barnacles living on the pilings.
Use: The purpose of this study is to determine the nickel content in the surrounding mud area and in the barnacles living on the pilings.
Methods and Materials
Include a description of your experimental procedure and the names of instruments used. Do not rewrite the lab manual or protocol.
Examples
Avoid: Next, prepare copper solution. Weigh 0.1821 g of copper nitrate and dilute it in 10 mL of tap water.
Use: A solution was prepared by dissolving copper nitrate (0.1821 g) in tap water (10 mL).
Further subdivide into
Materials—sources and purity of reagents used
Preparation of compounds—with the procedure and summary of characterization by NMR, IR, etc.
Instrumentation—manufacturer, description of any adaptation, or sample preparation
Tip 2

A quality Materials and Methods section should allow the reader to holistically reproduce what you did in the lab, using what you have written.
Outcomes
Include an outline of your raw data, preferably aided by tables and figures, and main observations.
Tip 3

Don't include lengthy tables of raw data; instead, simply present the outcomes of your calculations.
Avoid: The following standard concentrations were used to follow X law for the absorbances at the corresponding wavelength (Table).
Use: The standard concentrations were measured at the corresponding wavelengths and the data provided in Table 1.
Figures, Tables, Equations
Explain the objective of each figure, scheme, equation, and table in the Results section. When referring to a figure, table, or equation, use its number in the text.
Examples
A plateau was observed at reduced pressures >0.1, as indicated in Table 1.
Indicate every figure, table, and equation with a number. Figures and tables need a number and a descriptive title, and equations usually have a number placed in parentheses at the right margin.
Examples
Figure 1. Mass Uptake vs. Reduced Pressure for A
Table 1. Powder Diffraction Data Obtained for A
A = B2                                                                            (1)
Tip 4

"Figure" is much preferred compared to the labels "chart" and "graph."
Discussion
Analyze your outcomes
Comment on the objective of the experiment
Explain what the outcomes point to
What are the sources of inaccuracy (experimental uncertainty/precision) and limitations?
What further experiments could help address any open questions or loose ends?
Do the outcomes agree with what others have discovered?
Do the outcomes endorse a model or hypothesis?
Examples
Avoid: If, for example, we could have used a red and green apple to determine the components, we could have averaged the data and obtained more accurate results.
Use: For example, if data were obtained from both a red and a green apple, the averaged results could provide more representative values.
Conclusion
Summarize your outcomes and discussion with a concise conclusion, phrasing it in terms of the broad-ranging questions addressed in the Introduction. A notable feature of Trinka is the ability to present academic writing concisely.
Tip 5

When testing a hypothesis, you may want to say that the hypothesis was "proved" or "disproved" or was "correct" or "incorrect."
Remember, you are testing a theory with a procedure that lasts only a handful of hours and depends on only a few trials, which seriously compromises your ability to be certain about the "truth" you see.
Consequently, words such as "supported," "indicated," and "suggested" are more suitable to evaluate your hypothesis.
In the next article, we will discuss the scientific conventions and styles used in chemistry articles.
Again, to better understand how these rules and conventions can be incorporated in academic writing, you can try Trinka. This AI-driven writing tool understands subtle subject-specific requirements and enhances your writing with suggestions pertaining to technical spellings, formal tone, style guide preferences, and a lot more. Trinka's exclusive features are designed make your research paper publication-ready easily!