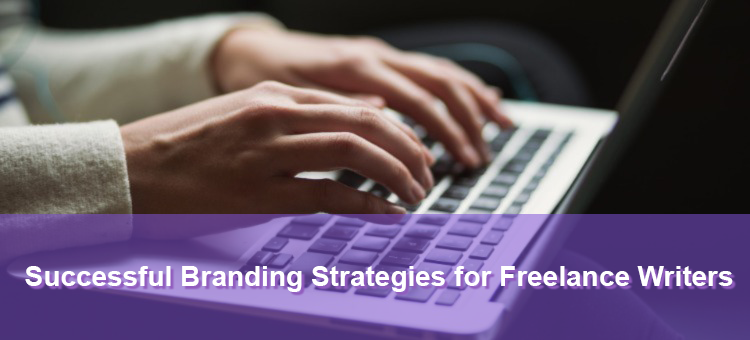 Successful Branding Strategies for Freelance Writers
Freelancing in any industry is about two things—how well you do what you do and how well you market yourself. These are equally important factors because being good at what you do means nothing if you can't get clients, and getting clients will count for nothing if you can't deliver the goods. With freelance writing, it's no different.
The key is to think of yourself as a business. Your writing skills are the service you offer and you have to market yourself accordingly. Of course, this can be tricky: you're a writer, not necessarily a marketer. However, if you want to succeed, you need to learn a thing or two about getting your name and your brand out there.
Here are some tips for branding your freelance writing business:
Focus on Your Areas of Expertise
Writing is a vast field, with so many areas to specialize in. The key is to home in on the areas that you do best and make those the core of your brand. That doesn't mean you can't expand and do other things within the field of writing. However, it's much easier to sell yourself to potential clients if you can show off your skills in their particular areas of interest.
For example, a writer who specializes in academic work should also be able to edit research papers or a student's thesis. Your niche is academic writing, but you can provide value-add with these other skills. You could also look to specialize in writing content for specific industries; if you know a lot about cars, then car content could be your niche.
Having an area of specialization and a niche helps you find clients and show them that you know what you're doing and can offer great value to them.
Consider the Design Elements of Your Brand
Remember, you are selling a brand—you and your writing skills are the brand. But it needs to be packaged professionally. You've got your areas of expertise, now you need to create a tone and style that fits. Additionally, think about who you are selling to and what kind of tone and imagery they'll respond to. Now, you can create a corporate identity (CI) for your freelance business.
It might be best to consult a designer to help you here. You could offer a trade exchange if money is tight. You write their website copy and they design your logo and CI. Alternatively, there are plenty of great design tools that are free to use, like Canva. What you want to end up with is a logo, set brand colors and fonts, and options for how to use them.
With a CI in place, you can now put it to use, building your brand identity and building brand awareness. It should get used on your business card (yes, those are crucial for marketing), your email signature, your website, your social media—everywhere you think clients will find you. The idea is to be consistent in your look and feel so that potential clients will recognize your brand when looking for your skill set.
Get Yourself a Cohesive Online Presence
You have to have a business website and social media presence in this day and age if you want to sell your brand. There's no way around it. Now that you have the design elements of your brand, make sure that they appear on every touchpoint that you have professionally online. This includes your website, LinkedIn profile, LinkedIn page, Facebook Page, Twitter account, and YouTube channel. Every point that the public can reach you needs to be cohesive in look and tone. This is where your brand CI will help you out too. Just be sure to proof and edit your content before you publish it. That is part of the skill set you're selling.
Build Profiles on Freelancing Websites
There are literally thousands of freelance directories online, and they're an excellent foothold for freelancers looking to establish themselves in the marketplace. Your job is to find the right ones for your brand and skill set, and start building great profiles on them. Take some time to research the directories; look at online reviews about the platforms, how they pay their writers, the amount of effort and time you have to put in to get jobs versus how much you get paid, and if the directory will be good for your overall brand.
You have to be careful because there are plenty of content mills that promise so much but don't deliver. Places like Upwork and Fiverr are pretty good if they're your main method of bringing in work. You need to be on the platforms daily to get the most out of them. That's why it's important to research the platforms and see what will work for you.
In time, you may build up a client portfolio that allows you to move away from these freelance platforms. When this happens, you need to be ready to manage your business as an independent entity. You can use free invoice templates, content management software, and collaboration tools like Slack to streamline and simplify your workflow. And, you can brand all these tools with your logo too.
Ask for Reviews and Recommendations
Word of mouth is always going to be a key element in marketing. In the digital age, this comes in the form of online reviews, testimonials, and recommendations. Over 90% of B2B decisions, according to a recent study, are made after reading reviews. This means that you need to get reviews if you want a business to hire you as a writer.
The same study showed that reviews older than three months are considered irrelevant for 85% of consumers. This means that you need to keep on asking for reviews and testimonials. Every time you finish a job, you have to ask that client for a review.
What's more, you need to have somewhere for those reviews to go. Your website is great, but that usually requires you to get the reviews and place them there manually. Facebook and LinkedIn have review and recommendation features that are great for collecting testimonials from customers. Potential clients will also find those write-ups easily when they do an online search for you. Speaking of online searches, you should also claim your Google My Business (GMB) profile and you can start collecting reviews and ratings on Google itself.
The bottom line is this: writing is your business. Treat your branding like any other business and you'll enjoy greater success in the marketplace.