The Five Best AI Tools Every Research Scholar Should Be Using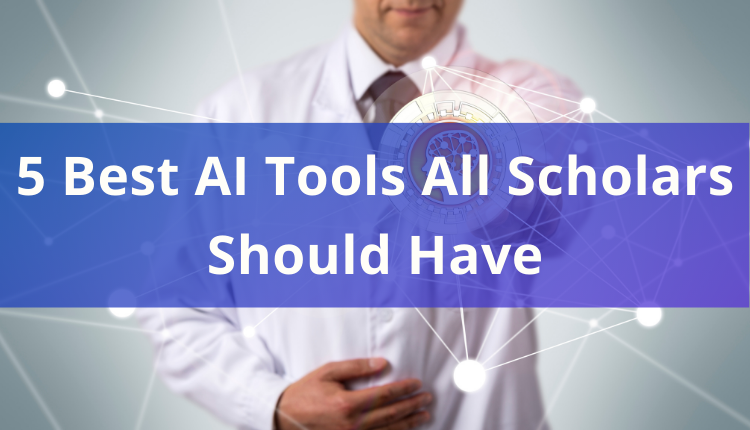 Throughout history, scholars have spent countless hours on research and writing. While technology and the internet have provided researchers with more information and tools than ever, it is often difficult to find exactly the right tools to meet your needs.
The vast amount of information available today means that scholars and researchers need help sorting through and organizing sources. Moreover, the continued pressure to publish means that scholars and researchers need to be writing informative, interesting, and well-written articles and reports.
In this article, we'll talk about five helpful AI tools that every scholar should be using to make the research and writing processes easier and increase efficiency.
5 Best AI Tools for All Scholars
Trinka is an AI-powered writing assistant that offers assistance with grammar and spelling. However, Trinka is not just another version of spellcheck. Trinka was specifically designed with academic writing in mind, meaning it is designed to understand and catch tricky mistakes in technical and scientific writing that ordinary spellcheckers and grammar checkers cannot. Trinka also offers the benefit of making suggestions regarding tone and phrasing.
If you are writing an academic article, Trinka can check your paper to ensure that it is compliant with your chosen style guide and highlight areas for improvement. Trinka works with a variety of academic fields, so it is not just good for those who study medicine or engineering—it is also great for economists, business students, social science researchers, and so on.
Scholarcy
Scholarcy is an AI tool that summarizes academic articles and highlights the most important parts for the reader. Scholarcy aims to make it fast and easy for scholars and researchers to determine whether or not an article is relevant to their research. You can use Scholarcy as a browser extension with open access libraries. Scholarcy will highlight key terms in each paper and link you to a bulleted list of definitions if you aren't familiar with the topic or field that you are learning about. It will also provide suggested background reading. One of the most popular features of Scholarcy is that it will offer you direct links to sources that are cited in an article, making it very easy to find sources cited. You can even use Scholarcy with a group, as it has a feature that lets you share summaries and relevant articles easily. Scholarcy also integrates with other AI tools, including Scite which is discussed below.
Semantic Scholar
Semantic Scholar aims to provide a smarter way to search through scientific literature by incorporating AI into its search tools. Semantic Scholar uses AI to classify citations and organize them into a unique citation graph. There are multiple ways to search the citation graph, including by type of citation (background, methods, results) and influence. The citation graph distinguishes between incidental citations that simply briefly mention the paper as a source and "highly influential" citations. In other words, the AI-powered tool filters which papers have been substantively and frequently cited so that you can easily determine what is relevant and important to read while you undertake your research.
Semantic Scholar has a large database of articles that continues to grow as it increases its partnerships with journals and scholarly databases. In addition to the citation graph feature, Semantic Scholar offers what it calls "Paper Pages." The system goes through a paper and extracts relevant tables, figures, and graphs. You can also view clinical trials, presentations, news articles and blogs discussing the paper, and other such information. The tool also offers a research feed which recommends papers to you based on how you have rated previous articles.
Paper Digest
Many of us become scholars because we love to read; unfortunately, time in life is limited. We can't read everything we would like to. Paper Digest aims to help researchers with this by offering three-minute summaries of articles, much like Scholarcy. The tool also aims to help scientific communicators summarize research. It is currently in the beta stage and works only with open-access papers, but already offers promising results. Students and researchers can simply paste the DOI or link to a PDF copy of an article into Paper Digest and the AI tool will produce a bulleted summary of the key ideas that is easy to read.
You might wonder why anyone would bother to use this tool (or similar ones) instead of just reading the paper abstract. Paper Digest actually aims to make paper summaries that can be understood by both experts and laypersons. The AI tool identifies and extracts key ideas and sentences from a text to create a brief summary easily understood by anyone. Paper Digest notes that it helps non-native English speakers read more quickly by providing the summary in a convenient bullet point format.
Scite
The internet has made it easier than ever to find information about scientific research that is happening globally. However, at the same time, the deluge of information has made it difficult for researchers to keep up with new developments and find the most relevant and timely scientific paper. Scite was created to address this problem. Scite is an AI-powered tool that helps researchers and scholars evaluate the quality of articles. It uses a system called Smart Citations that provides users with valuable information about how an article has been cited and in what context. For example, using Smart Citations allows you to quickly see whether an article was cited to support or refute a point in another article. Scite also provides information about how many times an article has simply been mentioned by another work. In a fast-moving world of scientific research, this is a valuable service that lets you see whether an article was supported or contradicted by later studies.
Scite also provides snippets where a paper was cited by other papers to help you quickly grasp the key bits of information in the study. It offers an alert service that sends emails about new articles that the tool determines are likely to be cited. Finally, Scite lets researchers and scholars explore and compare journal metrics to understand which journals are publishing what articles.
No matter what kind of research or writing you are doing, these AI tools can help make your job easier. The more you can automate tasks like locating relevant information and articles, recording and organizing citations, and writing and editing, the more time you have to learn and refine your own academic contributions.