Crimson Interactive Wins Asia's Best Employer Brand Award 2021
September 2022
Crimson Interactive has been awarded Asia's Best Employer for 2021 by the Employer Branding Institute. A special jury council honored Crimson's HR initiatives that prioritize employee wellbeing over everything else.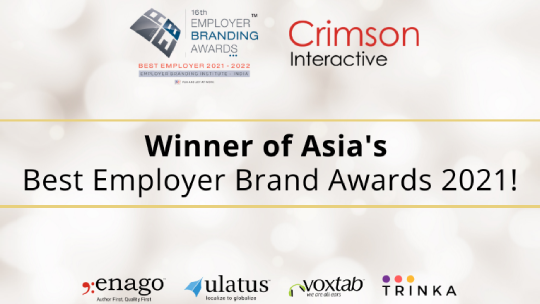 Crimson has developed robust COVID-responses that include free vaccination drives for all employees and their families, special health insurance and emergency support, and various fitness and wellness programs.
Crimson has long instituted award-winning HR schemes including the "T-Square" program, which opens a path to all employees (known as Crimsonites) with a minimum of 1 year's tenure to become business partners of the company; "Lead, Energize, and Accelerate Program (LEAP)," which creates learning opportunities through on-site exposure and mentorship; sponsorships for attaining professional certifications; and special performance incentives and employee stock ownership plans. Crimson also holds 'Crimson Annual Awards Night' (CAAN), an annual event to reward the hardworking and dedicated Crimsonites. Ten years in the running, it never fails to generate anticipation and excitement, and inspire employees to show talents that are rarely on display in the workplace!
Sharad Mittal, CEO, and Founder of Crimson Interactive, responded to the honor: "Crimsonites are our greatest assets. We always believe in nurturing talents and providing all the support for employees to enjoy a fulfilling career and the best of health and wellbeing. I am proud that our employee-centric initiatives have been recognized by an international institute. Crimson offers its employees more than a good job, but a career and a supporting family."
About Crimson Interactive
Since 2005, Crimson Interactive has provided English polishing, language translation, and transcription solutions to the scholarly community through its brands Enago, Ulatus, and Voxtab. Crimson Interactive has 2,000,000+ clients and ten global offices in 125 countries. It is a global pacesetter in diversified language solutions. Crimson Interactive also developed Trinka, an AI-powered online grammar checker and language correction tool dedicated to academic writing. It is also awarded three ISO certifications: Quality Management System, Information Security Management System, and Requirements For Translation Services.
About Employer Branding Institute
The Employer Branding Institute is a virtual organization with a vast network of senior HR leaders and accomplished professionals working in talent management, development, and innovation. It has been in existence for over six years and is increasing in size and stature with H.R leaders from over 36 countries.