Send for Professional Editing within Trinka AI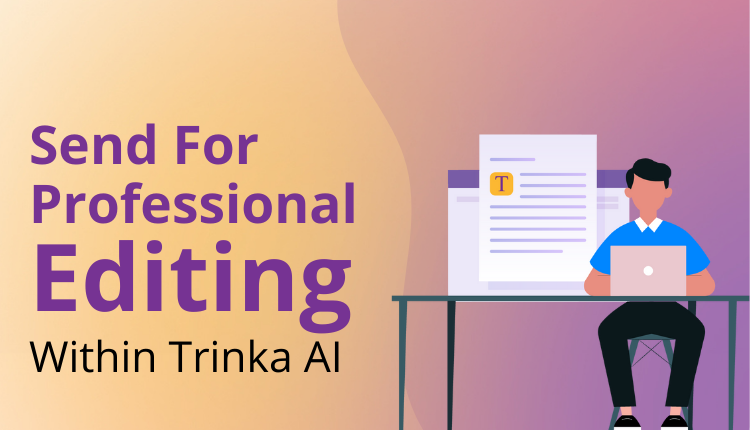 At Trinka AI, we are working night and day to bring you the latest and most requested features, right inside your writing environment.
While Trinka's robust AI covers a multitude of smart checks and suggestions to make your writing better, we understand that a professional human expert may be needed to polish your paper and make it ready for submission for your chosen journal.
Enago's 15 years of expertise in providing high-quality proofreading and editing services are now accessible directly within Trinka. You can seamlessly send your document to Enago's expert editors specialized in your subject area, with just a few clicks.
Click on Send for Professional Editing on the top right side of the Trinka editor window and in the resulting pop-up, choose a service and delivery time as per your preference. Add a few additional details which will help our team assign your order to the best suited editor for highest publication success, and click Confirm Order, which will take you to the next page to make the payment and place your order.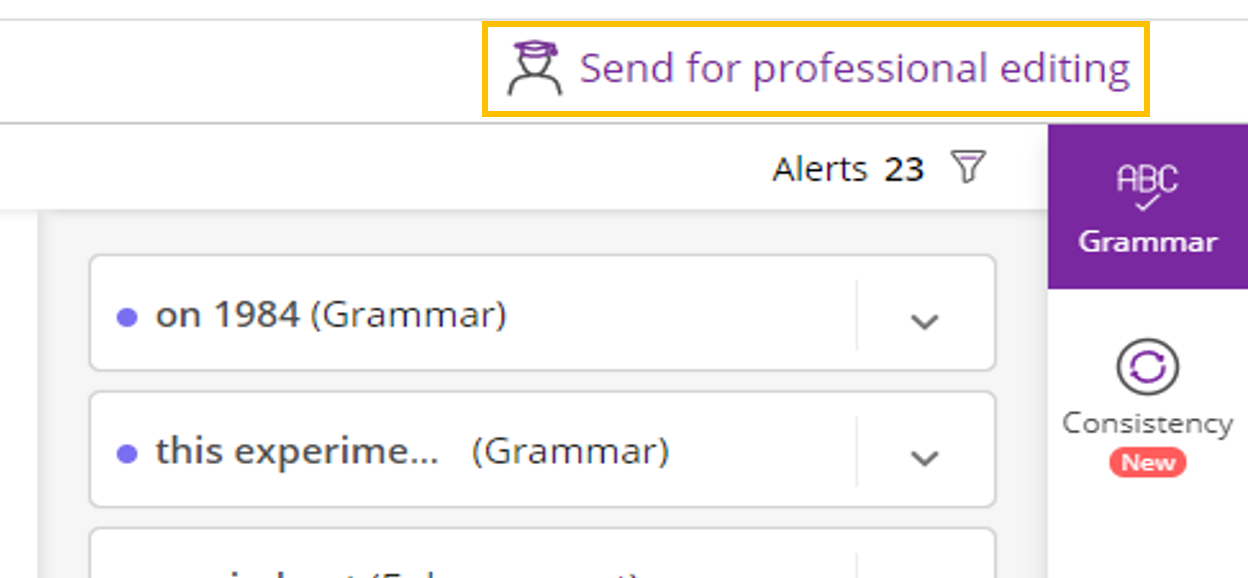 Here is a quick snapshot of the different editing services available:
Substantive Editing
Substantive Editing is a top-tier premium service, specifically tailored to the needs of the global scientific research community—in particular, quality-conscious authors looking to submit their work to high-impact peer-reviewed international journals.
Substantive Editing services cover all aspects of Copy Editing. In addition, they include advanced editing which focuses on logic, structure and presentation of your manuscript.
Features covered
Language and Grammar Check
Style and Consistency
Technical Accuracy
Formatting
Available only under Substantive Editing
Logical Flow
Presentation
Content Enhancement
Copy Editing
Professional Copy Editing service is designed for quality-conscious authors requiring a thorough language check of their manuscripts. Papers submitted to this service are returned free of language,
grammar, and punctuation errors, in addition to any mistakes in technical terminology. Copy Editing services is a moderately priced service that delivers a paper that is publishable in SCI-indexed journals.
Features covered
Language and Grammar Check
Style and Consistency
Technical Accuracy
Formatting
Proofreading
Proofreading service can be used for manuscripts just prior to journal submission. It is ideal for native English-speaking authors who need a basic grammar and consistency check on their papers.
Features covered
Language and Grammar Check
Style and Consistency
Reference Check
Please note that the above services are the most commonly used services and are not the only services Enago offers. We also offer other editing services specific to different regions and your requirements. Please email us at orders@enago.com to know more about these services.
Web Stories: